Virtual Institute of Responsible Innovation
The Virtual Institute for Responsible Innovation (VIRI)
The Virtual Institute for Responsible Innovation (VIRI) was created to accelerate the formation of a community of scholars and practitioners who, despite divides in geography and political culture, will create a common concept of responsible innovation for research, training and outreach – and in doing so contribute to the governance of emerging technologies under conditions dominated by high uncertainty, high stakes, and challenging questions of novelty.
"Responsible innovation" (RI) is an emerging term in science and innovation policy fields across the globe. Its precise definition has been at the center of numerous meetings, research council decisions, and other activities in recent years. But today there is neither a clear, unified vision of what responsible innovation is, what it requires in order to be effective, nor what it can accomplish.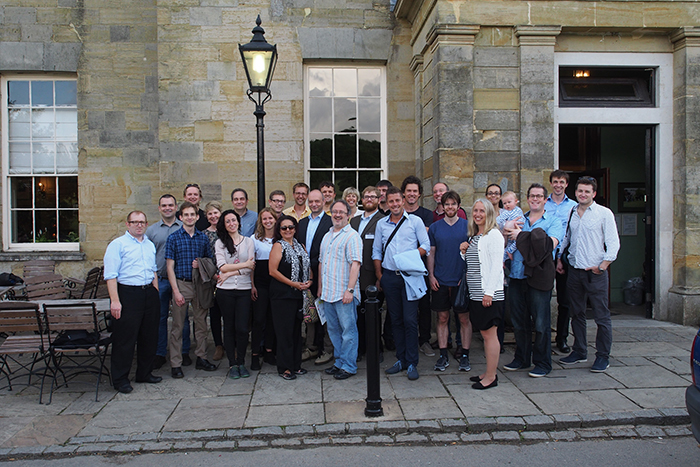 Representatives from VIRI Network Member Institutions, Summer Meeting 2015

Mission
VIRI's mission in pursuit of this vision is to develop and disseminate a sophisticated conceptual and operational understanding of RI by facilitating collaborative research, training and outreach activities among a broad partnership of academic and non-academic institutions.
Activities
VIRI will:
perform interlinked empirical, reflexive and normative research in a collaborative and comparative mode to explore and develop key concepts in RI;
develop curricular material and support educational exchanges of graduate students, post-doctoral fellows, and faculty;
create a dynamic online community to represent the breadth of the institute and its multi-lateral activities;
disseminate outputs from across the institute through its own and partner channels and will encourage broadsharing of its research and educational findings.
VIRI will pursue these activities with founding academic partners in the US, the UK, the Netherlands, Germany, Denmark, Norway, Brazil and Canada.
To read more about it, please see the article published in ASU News: 'Virtual institute' brings scholars together to advance responsible innovation
Support
VIRI is supported by the National Science Foundation under collective agreement #1257246. VIRI is housed by the Center for Nanotechnology in Society at Arizona State University.